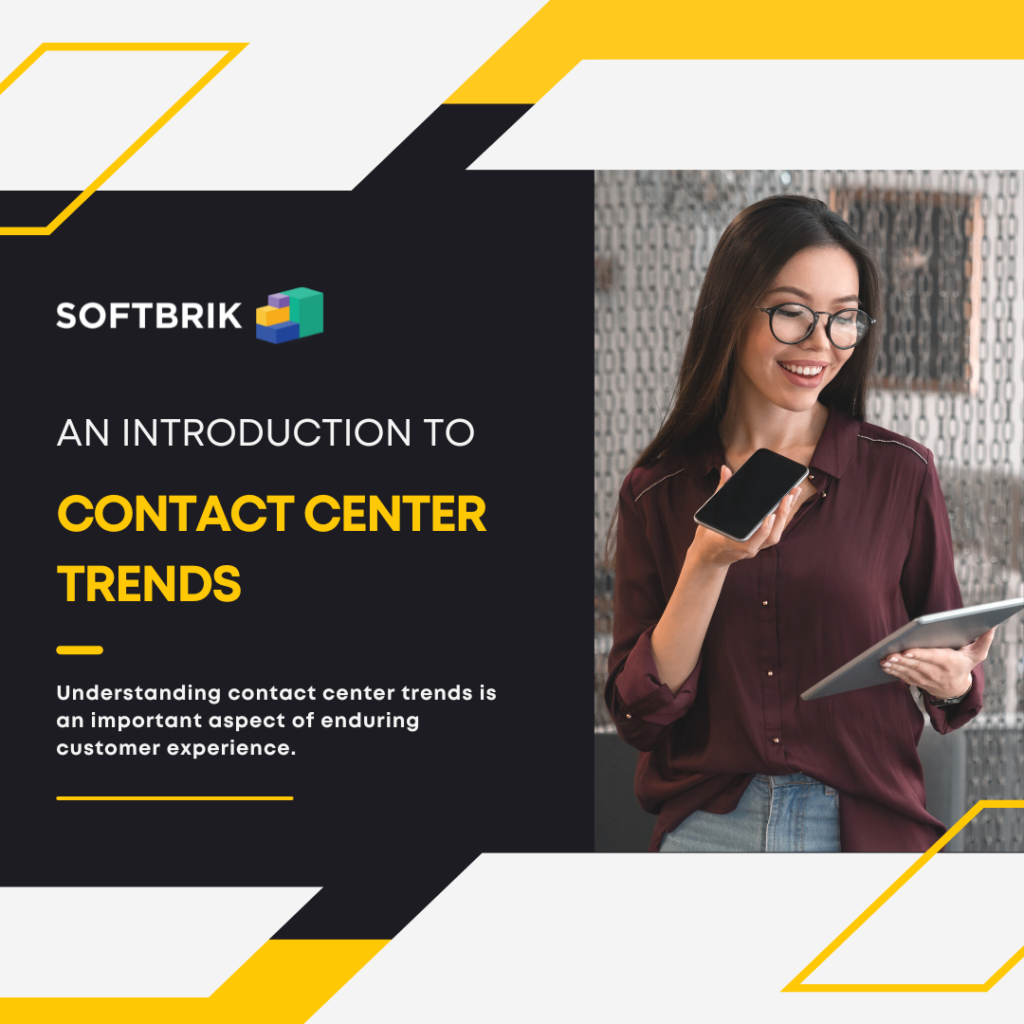 A contact center is a division of a business that handles customer queries. Most often, it is the central point from where a business manages all its customer interactions. The primary objective is to connect with the target audience and provide them with technical support. The contact center agents communicate with customers through multiple channels such as email, chat, social media, etc.
Top 4 Contact Center Trends in 2023
Over the years, contact centers have grown significantly. Customers now expect businesses to be available and easily approachable round the clock. The customer contact landscape has thus shifted to new trends. Businesses are trying to meet the evolving needs of their customers to build strong customer relationships.
Digital transformation has been the most rewarding trend in 2023 for businesses. Besides this, the application of sophisticated analytics, cloud communication, and improved self-service options to increase the productivity of agents are the trends that are shaping the business environment in 2023.
With changing times and rapid digitisation of industries, customer expectations have undergone a significant shift. Omnichannel support is the new standard now. Under this customer experience strategy, consistent customer interaction is done via more than one channel involving emails, chatbot, voice-over IP, website support among others.Just  having several channels is not sufficient. How a business can seamlessly interact from one channel to another is the key to an efficient omnichannel.
Multichannel customer support and omnichannel support are quite different. An omnichannel experience allows the conversation history and the context itself to navigate from one channel to another while multi-channel support just offers support across different platforms. This means more personalized support along with expediency of the process. One of the biggest ways to smoothen the customer experience for contact centers is to improve upon ways in which agents interact with customers across various channels.
Application of AI and Automation
Advancement in technology has a continuing effect on customer service trends. From ordering a pizza to booking a hotel room, automation is everywhere these days. With Artificial intelligence (AI) today, a complete end-to-end customer service that provides real-time self-service is possible. It has transformed and modernized the tools and processes which contact centers apply in their daily interactions.
Predictive analytics is something all brands are getting into to streamline customer contact services. It would be natural to expect more contact centers adopting automation and AI-powered technology in the future. Technology is known for saving the user's valuable time. The same is the case with the application of AI in contact centers. Customers don't feel that their valuable time has been wasted. Not only does it let agents work efficiently, but it also creates a loyalty-building customer experience through its seamless cross-channel transitions.
Recognizing the Importance of Customer Support
Selling a product is only half the battle won for any business. In order to be successful in the long term, it is crucial to provide flawless customer support. The rewards of providing stellar customer support are manifold -positive brand image, brand value, recurring revenue, and so on. Believe it or not, good customer service can even justify an otherwise-sounding expensive price tag on your product!
Contact Centers as Revenue Drivers
Earlier contact centers were perceived as unavoidable "cost centers" but companies are recognising how good quality customer support can impact a business positively. . But according to the recent emerging trends, these centers are considered "revenue drivers."
 Speaking to a contact center agent facilitates the purchase decisions of customers. Moreover, they can offer additional services or introduce the customers to related products. This influences the perception and purchase of the customers and improves overall customer retention. It's a business rule that retaining the current customers is more important than acquiring a new one. Thus, it enables recurring revenue for the business and saves on heavy advertising expenses.
The Importance of Keeping Up with the Contact Center Trends
Having a robust customer support system opens up proactive engagement opportunities. A dynamic contact center is capable of maintaining customer loyalty that lasts. These trends in contact centers have helped in attracting more trade and providing higher customer satisfaction. These trends are certainly here to pay dividends to companies for years to come.
The trends are also of substance because they fundamentally shift the way businesses and customers perceive customer interactions. In this era of complexity everywhere, making smart choices is the key.
Frequently Asked Questions
What does contact center mean?
The term "Contact center" reflects the many ways besides telephone calls of communicating with customers. It depicts a shift from the traditional ways of customer service. The whole process of tracking, coordinating, and managing is made faster and smoother.
What is the difference between a call center and a contact center?
It is a common notion that contact centers and call centers are interchangeable terms. That is not true.  They are different in the methodology they adopt and are used for different business objectives. A call center heavily relies on customer interactions via the phone while a contact center provides customer services through a range of mediums like chat, social media etc.
Why do we need a contact center?
In this era of millennials and Gen Z, where calling is seen as time-consuming and mostly avoided, a call center may not work as a one-size-fits-all solution. Given that, you may need a customer service system that uses multiple communication channels. These channels suit different buyers,  facilitating a wider customer interaction.