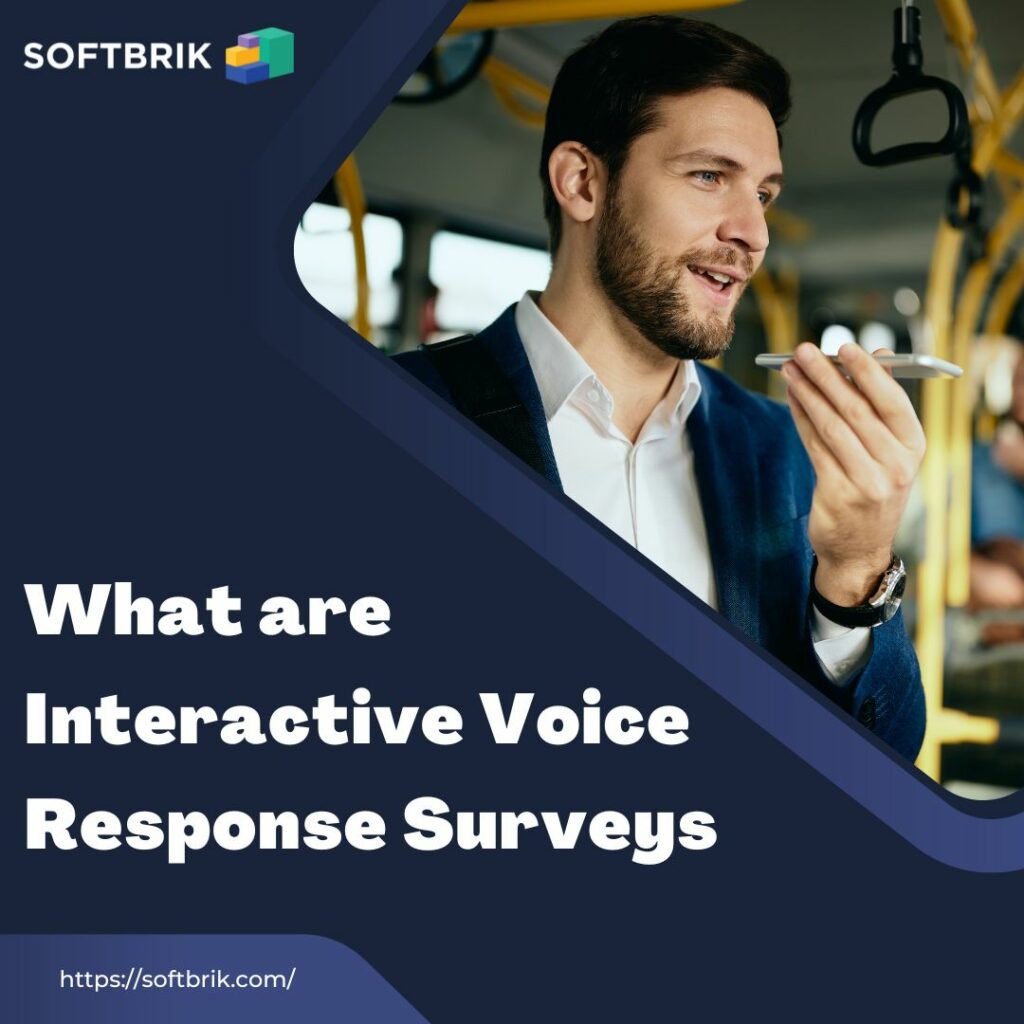 What are Interactive Voice Response Surveys
Interactive Voice Response is a technology that has been around for quite some time. The  Market Size of  IVR technology is  expected to reach $6.6 billion by 2030 and the  market is growing at a CAGR of 6.5%.
IVR is used in many industries, but one of its most popular used-cases  is  automated phone survey. In the case of IVR Surveys, respondents provide their inputs via voice. Since, it's much easier to speak than to type – IVR surveys, provide a natural incentive to respondents to disclose more information , which can definitely lead to better insights. 
When taking an IVR survey, you're typically given a set of questions to answer and then asked to provide your responses vocally or by typing in the numbers on your phone keypad.
The information you provide is then automatically recorded and stored for future analysis by the company conducting the survey.
Purpose of Interactive Voice Response Surveys
IVR surveys enable your business to connect with your customers via the telephone and collect their data in real-time. IVR is becoming common across various industries like finance, customer service, healthcare, education, retail and software as a service. Let's delve a deeper into each of these industries:
Finance: The banking industry has primarily leveraged IVR systems to provide customers with bank account updates and information. IVR gives quick access to customers to their bank account balance, current updates of loan applications, credit card updates, etc.
Customer Service: call centers for customer support are spread across various industries. IVR is primarily used in these call centers to steer inbound calls in large numbers using pre-recorded, interactive menus for customer queries and feedback.
Healthcare: IVR is used in hospitals and other medical facilities to provide self-service options for patients who need assistance scheduling appointments or making inquiries about their insurance coverage. IVR solutions are also used for medical surveys, patient discharge updates, lab results, etc.
IVR based surveys are also becoming a popular option from health and clinical research surveys. It has helped substantially reduce the cost of data capture. IVR surveys have also helped in collecting PRO (Patient Reported Outcome) and we can expect its use to be more rampant in the coming years.
Education: IVR technology is gradually gaining popularity in schools for providing students with communication tools such as email, text messaging, and video chat so they can stay connected with their teachers and classmates even when they're not at school. Parents can also rely on IVR solutions to quickly access their children's performance, grades, and attendance updates. 
Retail: IVRs are used by retailers to handle customer queries related to products and services offered. Some common questions retailers receive through this channel are about product availability and offers.
Software as a service: IVR based feedback is  useful for SAAS product managers. It helps get unfiltered feedback about various features of the software and eventually leads to better product  development.
Common IVR Survey Approaches
IVR surveys are a great way to get real-time feedback from customers and clients. Here are some of the most common IVR survey approaches that you can use:
When it comes to inbound IVR surveys, the invitation is sent to the customers via emails, newsletters, and other print marketing methods. The customers voluntarily take part by calling in to take the survey. Inbound IVR surveys are heavily used within the retail and food industry, especially for product launches and market research surveys. This approach allows you to ask questions about the customer's current experience with your product or service. These surveys are typically used for customer feedback surveys and lead management.
In this case, the customers are called to participate in the outbound IVR survey via an automated solution based on the customer data gathered during their transactions with the business. When it comes to outbound IVR surveys, it is essential to be mindful of the customer call quantity of the company call center and be cautious of the implications of those calls on the overall phone system.
The customers are transferred to an IVR survey at the start of the support call. From there, they are typically transferred to the pre-recorded survey once the transaction is complete.
Being asked automated questions before connecting with a customer service representative can lead the customer to the IVR survey. Call Transfer IVR Surveys collect immediate reactions and top-of-mind customer feedback.
In a Hybrid IVR survey, a live representative calls the customer and solicits participation, followed by a call transfer to the IVR survey upon the customer's approval.
This method is useful when a live representative is needed to help provide context for the survey request or the survey content.
Common Questions Asked in IVR Surveys
An IVR system works by calling up customers and asking them questions, usually multiple choice questions with yes/no answers such as: "Do you use our product?" or "Would you buy our product?" The customer responds verbally or enters their response using the keypad on their phone. The answers are recorded by the computer and analyzed for statistical significance before being tabulated into graphs or charts for easy viewing by managers or other employees who want information about consumer behavior without having to sit through hours of tedious interviews.
How Can IVR Surveys Help?
With IVR surveys, you get an accurate response rate and a lot less hassle. Rather than having people answer questions over the phone, they can do it via computer or mobile device. And since it's recorded, everyone who calls in hears the exact same question and possible answers. This differs from an agent reading out a questionnaire and taking note of caller responses. This naturally leads to more accurate results, with minimal human error, and saves much time on analysis.
With an IVR survey, you can get to know your clients better.
Here's how:
It saves you time and money. You can gather customer data quickly and easily without spending hours collecting it manually.

It reduces bias/human error. Real-time agents can be prone to mistakes, especially when they are doing something repetitively or repeatedly. An IVR survey eliminates these errors by allowing customers to answer questions at their own pace and in their own words, rather than having a human being interpret what they said and type it into a computer.

It facilitates data gathering. Don't know how many times per week your customers buy from you? Or what about geographic location? With an IVR survey, you'll be able to ask these questions (and many others) directly from your customers based on their purchase history alone.

It helps identify and solve hidden issues that might otherwise go unnoticed until they become major issues down the road.
It cuts out the human interaction for the customer. People don't like talking to machines, and they're not going to do it as often as they would talk to a person.

The caller has to interact with the technology to use an IVR survey effectively, and many people aren't comfortable doing that.

Both asking and answering open-ended questions can be challenging, which means that the person taking the survey might make mistakes or misunderstand the question—and then get an inaccurate result for their efforts.
Frequently Asked Questions
What are some advantages of automated voice surveys?
IVR can do wonders in evaluating your company's overall performance. They allow you to gather data quickly without relying on human biases or errors. They also facilitate data gathering by making it easy for employees to contribute their opinions. They help identify and solve hidden issues by highlighting what works well and isn't.
Voice response systems (VRSs) are designed to respond to questions and provide information to callers without human assistance. Companies commonly use these systems for product launches as well as customer support.
What is IVR optimization?
IVR optimization enables customers to skip long waiting times and avoidable human interaction. This makes IVR optimization essential for ensuring higher growth for the company and improving the IVR containment rate.