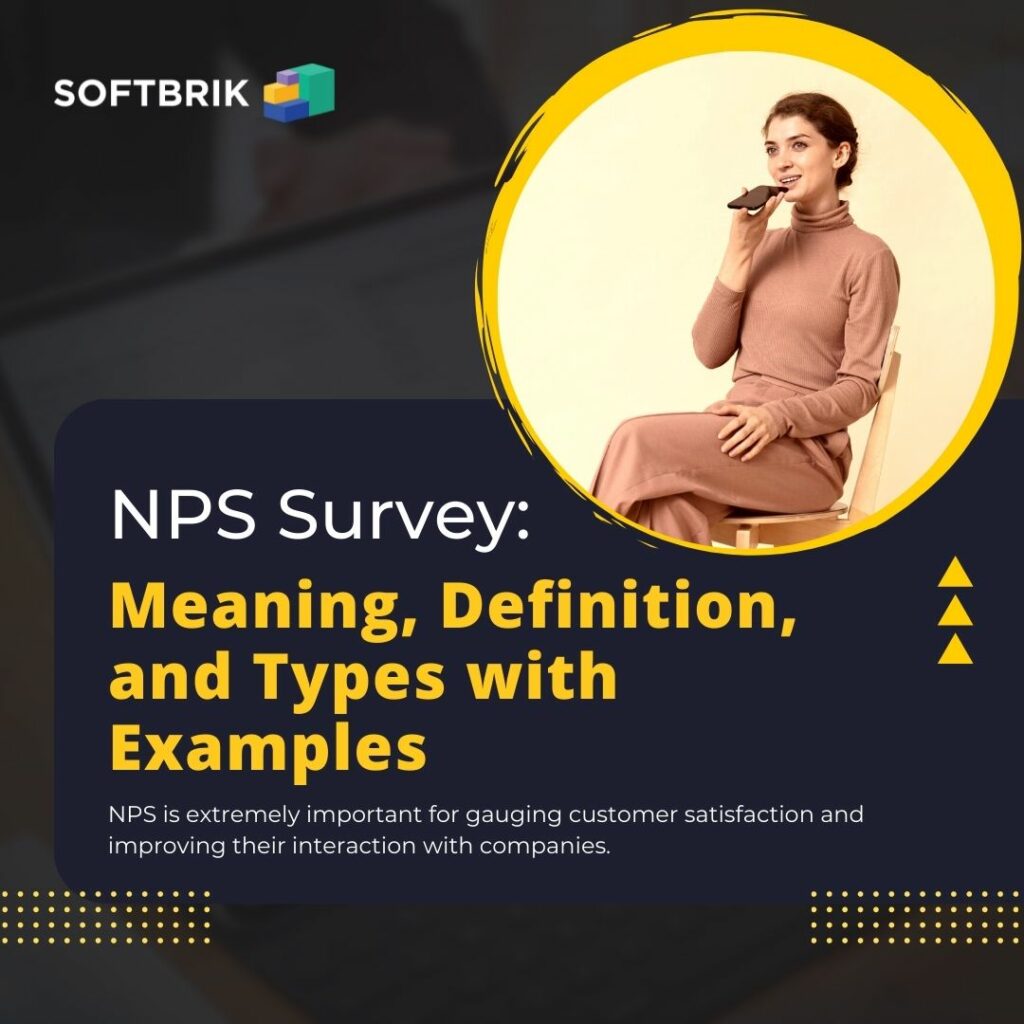 A crucial end goal for any business is to make their customers happy. How do you measure how happy your customers are? Asking them is a possible way but it's not really a feasible option if the business deals with thousands of customers. Net Promoter Score Survey (NPS) survey quickly gathers information from your customers, providing you with valuable feedback. The feedback aids you in improving your products/services, creating a loyal customer base, and eventually scaling your business. Here's how it can benefit your business.
Types and Examples of NPS Surveys
There are several types of Net Promoter Score (NPS) surveys that businesses can use to gauge customer satisfaction and loyalty. Some of the popular surveys are: 
Employee NPS:

This type of survey is used to measure employee satisfaction and engagement within an organization. It helps to identify areas where the company can improve the employee experience and foster a positive company culture.

Brand NPS:

This type of survey measures the overall perception of a brand and its products or services among its customers. It can help businesses understand how they compare to their competitors and identify areas for improvement.

Software NPS:

This type of survey is specifically designed to gauge the satisfaction of customers using a particular software product. It helps the software company understand how well their product is meeting the needs of its users and identify any issues that need to be addressed.

Transactional NPS:

This type of survey is used to measure customer satisfaction immediately after a transaction or interaction with a company, such as after making a purchase or contacting customer service. It provides real-time feedback that can help businesses address any issues and improve the customer experience.
Follow-up NPS: This type of survey is used to follow up with customers after they have had a chance to use a product or service for a longer period of time. It helps businesses understand how well the product or service is meeting the needs of its users over time and identify any potential issues that may arise.
The Net Promoter Score (NPS) scale is based on a single question: "On a scale of 0 to 10, how likely are you to recommend our company/product/service to a friend or colleague?"
Customers who respond with a score of 9 or 10 are considered "promoters" and are likely to be loyal to the company and advocate for it to others. Those who respond with a score of 7 or 8 are considered "passives," while those who respond with a score of 0 to 6 are considered "detractors." Detractors are less likely to be loyal to the company and may even spread negative feedback about it.
NPS can be used to measure employee satisfaction as well. By asking the same question to employees, businesses can gauge the level of engagement and commitment among their workforce.
NPS surveys can be conducted in various ways, including in person, over the phone, or online. Many businesses use online surveys as a convenient and cost-effective way to collect NPS data from a large number of customers or employees. The results of NPS surveys can be used to inform marketing efforts and improve the overall customer experience.
How to Conduct an NPS Survey
To conduct a Net Promoter Score survey, you'll need to ask some multiple-choice questions. Keep it short and sweet; your sample size will probably be relatively small, and trying to collect too much information could hurt response rates. NPS surveys can be of several types-simple questions, choice models, and hybrid. The simple question approach asks respondents to rate how likely they are to recommend your company out of ten; they can also select a write-in option for more detailed feedback. A choice model survey allows people to choose from three options (for example, definitely not recommended, neutral or recommended without hesitation). And a hybrid combines elements from both approaches.
Include Demographic Questions
While there are a few basic types of NPS surveys, depending on your specific needs, you can include demographic questions to learn more about your client's preferences.
For example:
Asking people if they have kids or pets can be valuable information in a retail environment; knowing who lives near you might affect where you sell products and services.

On a more granular level, it's helpful to ask about people's income and housing situations—this can help when designing services or creating products.
The truth is that most of us will take better care of something we paid money for than something we simply feel some obligation to protect. Answering these questions may also spark ideas for new products or service offerings. You can never know too much about your customers!
Include NPS Score Question
You can ask this question: What do you think about our company?
If you can take an NPS survey using a tool or even just through email, then there's no reason not to have one on your site; it only takes a few minutes and can provide excellent insight into what your customers and clients think of your product or service.
You should also look at trend data over time (over weeks or months) to see how well you're doing in terms of customer satisfaction.
An example of a Net Promoter Score question:
How likely are you to recommend (company's name) to your friends and colleagues?
You can usually find a score ranging anywhere from 0% (definitely not recommended) to 100% (definitely recommended). Promoters are loyal enthusiasts who will keep coming back for more, and recommending us to others. Detractors will willingly take their money elsewhere and happily tell you why they did it.
Keep Open Ended Questions for Customers' Reason behind the given Score
 While asking for feedback, it's essential to keep your questions open-ended. That way, you can get more detailed responses about what went wrong or correct and how you can improve.
For example:
On a scale of 1-5, how would you rate us?

Or even, would you recommend us to a friend or colleague?
Keep your questions vague and ask specifically what they think went well (or not) so that they can give specific suggestions rather than just rating your company.
An example of an open-ended question would be:
How do we get 5 stars from you next time?
This allows customers to offer precise answers that will help steer improvements for future customers.
Ask for Customer's Feedback on Improving their Experience
A customer experience survey is a great tool to use when developing products, services, or processes. The NPS survey is an essential part of improving a customer's experience. The motivation behind this type of survey is to gain valuable feedback from your customers in order to enhance their experience. Happy customers are more likely to share a positive experience on social media, in person, and recommend you to others. If you do not ask for their feedback, they will not be able to give it to you, and you are therefore missing a pivotal opportunity to improve your customer's overall experience and ultimately increase sales as well.
The first thing we should ask is:
How do you suggest improving our product/ service/ experience?

If there was only one thing our organization could do to improve, what would it be according to you?
What is a Good Net Promoter Score
To have a Good Net Promoter Score means that your company is doing an excellent job at delivering exceptional customer service and being responsive to their needs. If you want to know what a good score is, it's anything over 40%, and if you fall below that threshold, you may need to take steps toward improving your customer service or satisfaction levels. That's where Net Promoter Score surveys come in.
What is a Bad Net Promoter Score
Before you get a Bad Net Promoter Score, we should first get a good understanding of what a Net Promoter Score means. The Net Promoter Score (NPS) measures customer loyalty and growth by asking your customers to answer a straightforward question: on a scale from 0 to 10, how likely are you to recommend us to your friends or colleagues? Customers respond based on a how likely scale, which ranges from 0 above – unlikely, 3 and above – neutral, 6 and above – likely, and 10 – extremely likely. Again, the scores vary depending on the organization's needs.
The Importance of NPS Surveys
In the age of high customer churn and low conversion rates, companies are looking for new ways to save money and improve their bottom line. One of the best ways to do this is by improving NPS. The Net Promoter Score survey can be used to determine customer loyalty, predict customer success and ultimately help your company increase sales and retain customers.
For example, you might ask: How likely would you be to recommend us to a friend or colleague? with response options ranging from definitely not likely (0) to extremely likely (10). Or maybe: On a scale of 0–10, how satisfied were you with our product or service? What could we do better next time? These survey questions give respondents more room for elaboration.
Frequently Asked Questions
Why is NPS important to a company?
An NPS (Net Promoter Score) survey measures customer loyalty and provides valuable insight into how well your company is serving its customers. It can also be used as a performance benchmark for tracking customer satisfaction over time.
What is the benefit of using NPS?
The Net Promoter Score provides benefits to both your organization and your customers. For organizations, it's a way to measure and monitor customer loyalty.
What is NPS in customer success?
A Net Promoter Score, or NPS, measures how likely your customers are to recommend your product or service.