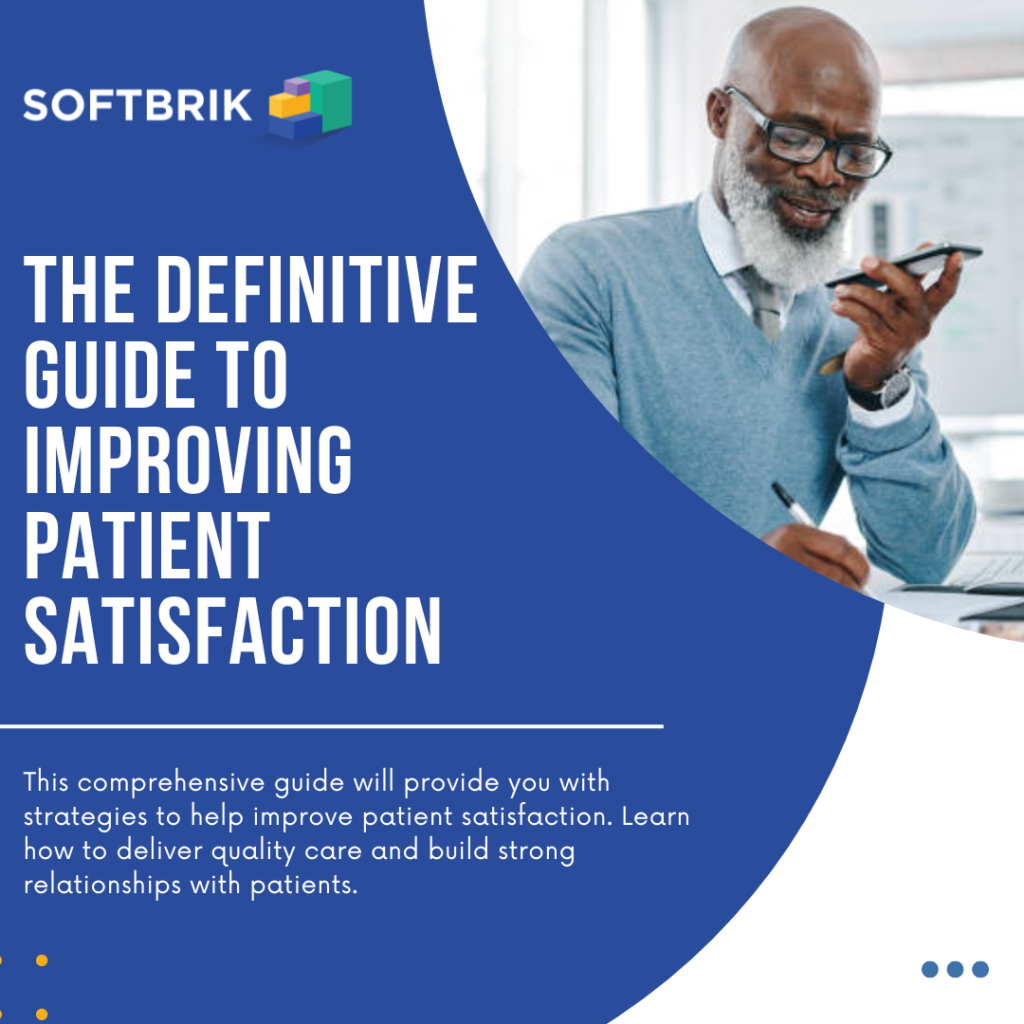 What is Patient Satisfaction
Patient satisfaction is a metric that asks patients to rate the degree to which they are satisfied with the quality of care provided by a facility. It is not a measurement of health outcomes but an indicator of how well the patient's experience aligns with expectations.
Patient satisfaction data can be used to compare hospitals and provider groups based on their performance relative to their peers on this measure. Patient satisfaction measures are also used to evaluate the quality of care and identify improvement areas.
Why Patient Satisfaction in Healthcare is Important
When it comes to healthcare, patient satisfaction indicates the quality of healthcare provided. Patients satisfied with their experience are more likely to feel comfortable enough to return for treatment, recommend the practice to others, and even pay more for treatment.
Patients must also be satisfied with their doctor's services to feel confident in their car. If they don't feel confident in their care, they might not follow through with the recommended treatment plan.
Ways to Improve Patient Satisfaction
There are several ways to improve patient satisfaction, including:
Patients are a great source of feedback on your practice, and you should make it easy for them to share their thoughts. One way to do this is by curating a patient satisfaction survey that asks patients how they feel about the care they receive and why. You can even ask patients to fill out comment cards at the end of each visit or send them an email survey once or twice yearly.
Understand your Patients and Tailor the Experience
It's important to know your patients, which means more than just knowing their names. You should understand what they value most in their healthcare experience and how they feel about the type of care you provide. It will enable you to tailor your services to meet their needs.
Act on Insights at Every Level
Once you've collected and analyzed patient feedback, you must act on the insights you uncover. Use them to improve your customer experience and increase customer satisfaction. You can share your findings with staff members who interact with patients daily or use the data to identify weak spots in your business model and make changes accordingly.
Tips for Sustaining Patient Satisfaction
Patient satisfaction is an important metric for healthcare providers to track, as it can impact patient retention, reputation, and even revenue. Here are a few tips for sustaining high levels of patient satisfaction:
Foster open communication: Encourage patients to ask questions and voice their concerns. Ensure they understand their treatment plan and what to expect during their visit.

Show empathy: A little bit of compassion can go a long way in making patients feel heard and understood.

Provide timely care: Long wait times and delays in treatment can lead to frustration and decreased satisfaction. Make sure to schedule appointments efficiently and address any issues that may cause delays in care.

Follow up with patients: Make sure to check in with patients after their visit to see how they are feeling and address any additional concerns they may have.

Solicit feedback: Regularly ask for patient feedback and use it to improve your care.

Respect patient preferences: Some patients may have specific preferences or needs, such as a preferred method of communication or accommodation for a disability. Make sure to respect these preferences and accommodate them as much as possible.
By following these tips, healthcare providers can work to sustain high levels of patient satisfaction and improve the overall patient experience. Patient satisfaction surveys are a great way to measure your progress. Contact us today if you're interested in learning more about patient satisfaction surveys.
Frequently Asked Questions
What drives patient satisfaction in healthcare?
Factors that can drive patient satisfaction in healthcare include quality of care, effective communication, comfort, convenience, positive treatment outcomes, and respect.

What is the essential element of patient satisfaction?
Essential elements of patient satisfaction include quality of care, effective communication, comfort, respect, and empathy.