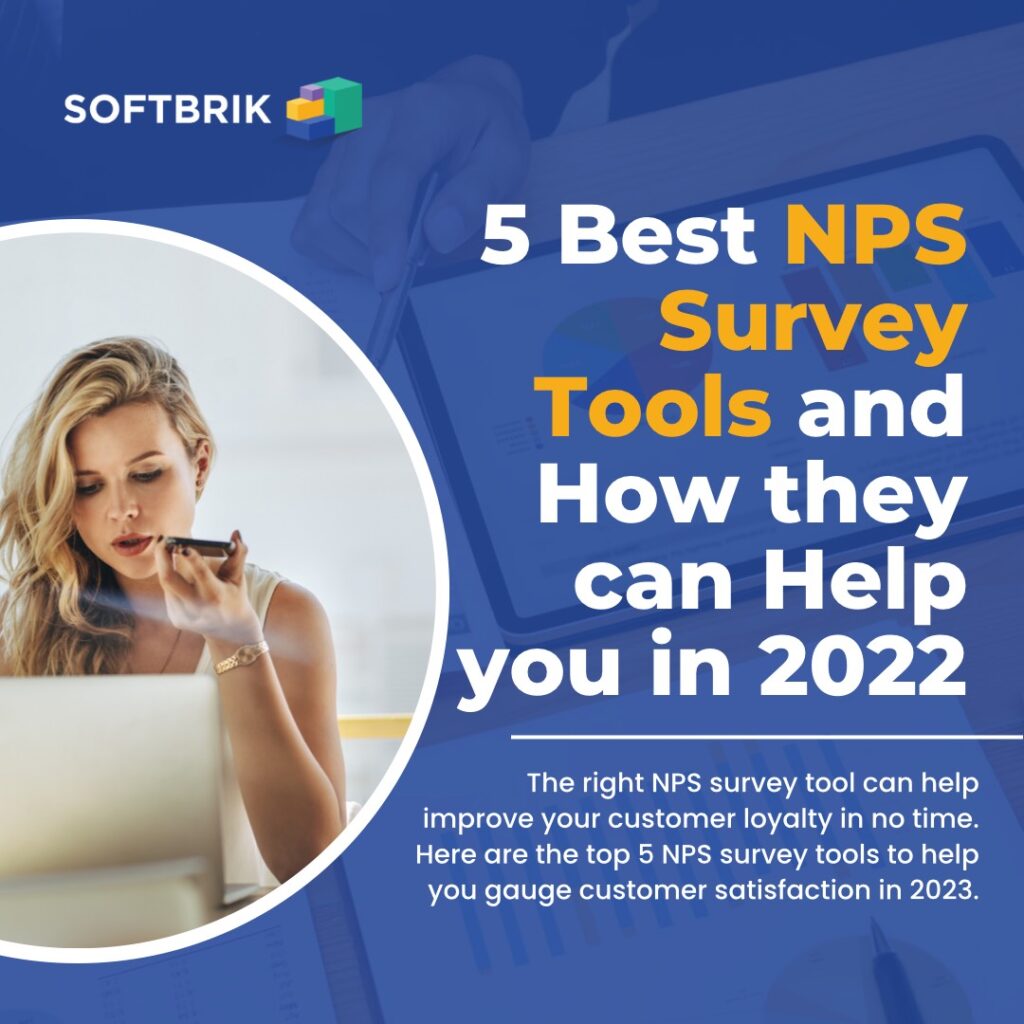 Top 5 NPS Survey Tools for a Stronger Customer Loyalty in 2023
Net Promoter Score (NPS) is a customer loyalty metric that can show how likely a customer will recommend your product to others. You can use an NPS survey tool to determine the likelihood of a customer recommending your business and categorize them as promoters, passives, or detractors based on their response.
To run an NPS survey, you need to send out a survey that asks your customers one question: "How likely would you recommend [your company] to a friend or colleague?" You can then categorize responses as either a promoter (10 being the highest), passive (7-9), or detractor (0-6). Next, calculate the percentage of promoters minus the percentage of detractors and subtract from 100.
The right NPS survey tool can help improve your customer loyalty in no time. Here are the top 5 NPS survey tools to help you gauge customer satisfaction in 2023.
NPS scores tend to be inaccurate because they ask leading questions that are interpreted differently by different people. Most people who are pushed to answer will respond by concealing their true feelings.
Softbrik's algorithm analyzes what customers really mean—rather than just the words they use to describe something—by scanning voice messages for formative feedback and blending it with traditional ratings. You can find out how favorable people view your company and whether they feel indifferent or disgruntled—and take concrete steps to address those issues.
Softbrik's Voice Survey, Feedback, and Support platform allow you to capture more profound insights into your customers' needs and identify actions that will help them. Softbrik's AI understands the requirements of its customers and highlights critical contexts or emotions. Their buyer profiles are classified by need groups. Your team can respond to leads by prioritizing them according to their needs and value and then communicating with the prospect using personalized messaging that increases conversions by up to 40%.
Softbrik's AI automatically analyzes quantitative and qualitative data, providing in-depth insights that reveal patterns and help spot problems.
You can use Survicate to conduct Net Promoter Score surveys on your products, website, and emails. Increase NPS survey response rates with Survicate, which allows you to watch responses soar as you record all survey responses, even if a survey is incomplete.
It enables you to embed NPS surveys directly into emails. This decreases the number of clicks for recipients and increases response rates.
Get an overview of the health of your customer relationships with intuitive dashboards and reports. Quickly export feedback into comprehensive spreadsheets to further analyze data with Survicate.
Survey Sparrow is an omnichannel CX management software that uses NPS surveys to help businesses identify opportunities for improving customer loyalty. Use the flexibility of dynamic lists to segment your respondents based on any criteria. Use follow-up questions to learn more about customer preferences and expectations.
You can automate the process of distributing your survey by setting it to be automatically sent at a specified time and cadence and sending it only to certain customers.
InMoment distinguishes itself from other companies by focusing on providing timely and detailed responses to customers' queries. This approach increases the likelihood that they will return to make future purchases.
InMoment offers a variety of survey delivery options, including in-app surveys and QR code surveys designed to boost customer engagement. It is a robust NPS feedback management system that can be deployed for any size company or use case.
AskNicely is a customer experience platform that allows companies to conduct surveys and gather customer feedback. The tool lets you collect automated customer feedback with customizable NPS surveys that you can circulate through various channels, including email and SMS.
AskNicely provides a simple way to create and share customer satisfaction surveys. In addition to offering the NPS survey, AskNicely has an ebook with original research that helps you learn how to improve your score and gauge your customers better.
Choosing the Right NPS Survey Tool
The best NPS survey tools can give you the data you need to make better decisions. You should see how your customers feel about their experience, what they're looking for and how well your business is doing.
A good NPS survey tool should also be easy to use, customizable, and provide actionable data. The top NPS survey tools are flexible enough to help you adapt them to your business's needs while providing reliable customer feedback.
Softbrik helps companies ensure complete customer communication with voice surveys. Sign up with Softbrik to design and deploy voice-to-text forms, surveys, and support issues with a few clicks. Capture customer information across all channels and touchpoints to help you improve scores and enhance satisfaction.
Frequently Asked Questions
What Platforms can you Run the NPS Survey On?
NPS surveys can be created to run efficiently using Softbrik, SurveyMonkey, Cognito Forms, and other form-building software.
What to ask when running an NPS survey?
Here are some common questions to ask when running an NPS survey:
How likely will you recommend this company/product/service to a friend or colleague?

What was the main reason for your score on this question?

What could we have done better?

Are there any specific areas where we need more work?