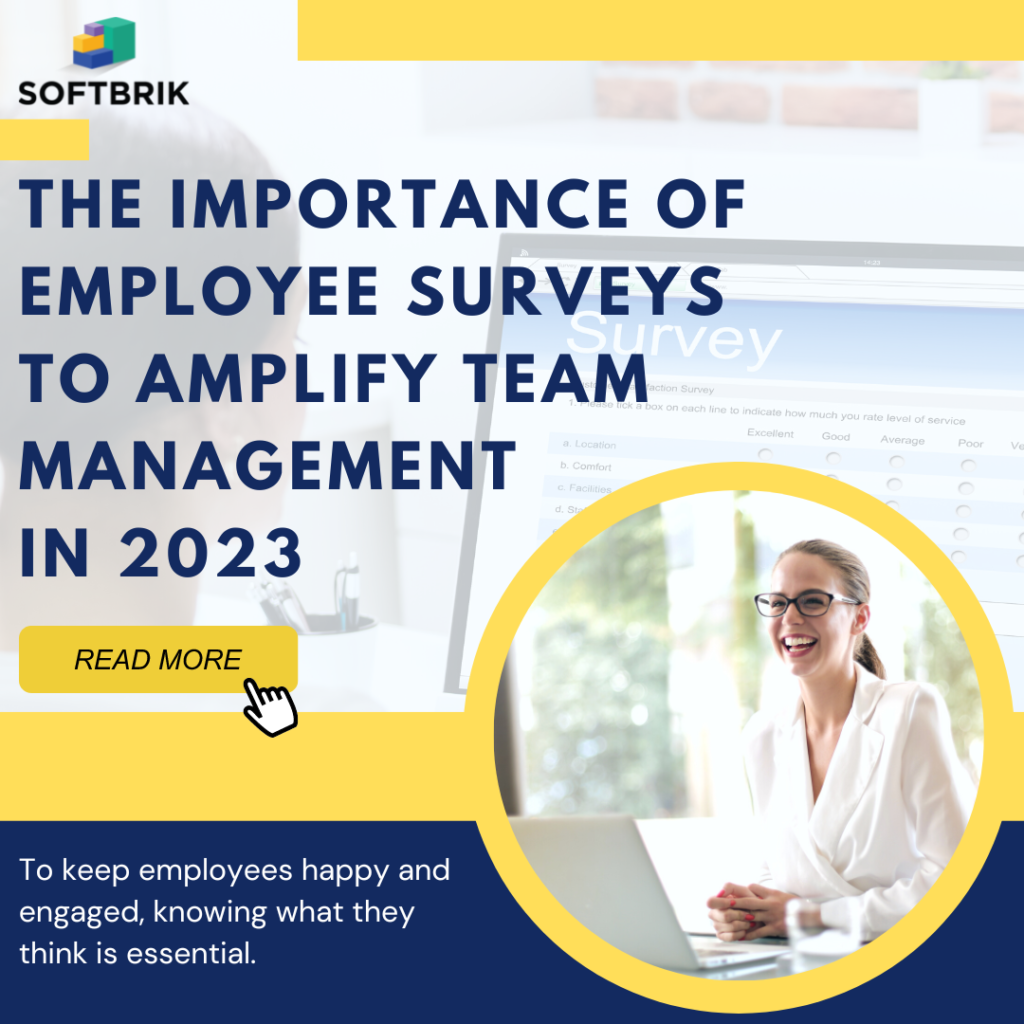 What is an Employee Voice Survey
The Voice of Employee (VoE) survey is a way for employees to express their ideas, concerns, suggestions, and complaints at work. These can be directed to their respective managers, HR representatives, etc.
Many companies have popularized the VoE survey to improve internal communication between employees and management. It enables employees to let off steam in a safe environment while also allowing managers to make changes that benefit everyone in the workplace.
The Importance of Employee Voice Survey
A VoE survey is a great way to improve internal communication between employees and management and build a healthy working environment for both parties.
Employee voice surveys are a great way to evaluate how employees feel about the organization they are working for. When implemented correctly, employee voice surveys help employees feel more connected with their work and the company they are associated with. These surveys can also help the authorities make informed decisions about the working culture, leading to higher productivity and employee retention.
How Should an Employee Voice Survey Look like
To keep employees happy and engaged, knowing what they think is essential. An employee voice survey is a great way to find out what's on their minds and can help you identify any alarming issue before it gets out of proportion.
An employee voice survey should have key categories that deeply impact a work environment, such as management, communication, work environment, goals, ethics, and values. Each of these categories should have several questions that are short and crisp.
The employee voice survey should be easy to comprehend and direct. A good number of these questions should be related to employee satisfaction.
Examples of Employee Voice Survey Questions
Employee voice surveys are a great way to get insights into your employees' attitudes, opinions, and perceptions.
The questions you choose to incorporate into your employee voice survey will determine the insights you get from the survey. Be mindful of the survey questions you decide to gather valuable insights into. Here are 10 examples of employee voice survey questions you can include in your employee survey:
How proud are you to be a part of this organization?

How satisfied are you with your roles and responsibilities in this organization?

Do you feel motivated to complete your work tasks on time?

Do your goals align with this organization?

Are you satisfied with the leadership you're provided within this organization?

Do you know what this organization's expectations are from you?

Do you have access to the required resources to complete your tasks efficiently?

Are you satisfied with the deadlines given to you for your tasks?

Do you feel motivated to come to work daily?

Do you think this organization has the work environment you need to develop your career?
5 Benefits of Employee Voice Survey
Measures Employee Satisfaction Level
One of the key advantages of employee voice surveys is that they help measure and evaluate employee satisfaction levels. Employee voice surveys can give your company insight into how satisfied your employees are with their jobs, their managers, and the company as a whole. You can use these results to evaluate where there might be room for improvement.
Helps Understand Primary Improvement Areas
It's essential to know where you need improvement as well as which areas are doing well. You can use employee survey results to improve your company culture in areas that need it most. 
An employee voice survey can help you identify key improvement areas in your workplace. You may find out that some processes need to be revamped or that certain aspects of the company's work culture could be improved. This information helps you make better decisions regarding how to improve your workplace for employees' benefit.
Helps Understand Key Drivers Impacting Overall Satisfaction
The employee voice survey is a great way to identify not only what you're doing right but also where there is room for improvement. Employees are more likely to be honest about their experiences when they are asked in an anonymous way, which allows them to speak freely without fear of being judged or punished for their answers. Your company can take note of the positive feedback and ensure they keep up with it while implementing changes in areas that may have received negative feedback.
Employee voice surveys can be a company's stepping stone for establishing a clear path of communication between the authorities and the employees. It is essential to give employees the ability to express their feelings, whether positive or negative.
Employee voice surveys provide a way for employees to voice their opinions about their work culture, diversity and inclusion, leadership style and methods, and other aspects of their jobs that they might not have otherwise felt comfortable sharing. They can also provide companies with valuable insight into what works well within their organization and what needs improvement.
Shows Employees that You Care
Giving your employees the space to express themselves and being a good listener shows how much your company cares for its employee's welfare.
Employee voice surveys are a more proactive and personal method of employee feedback. These surveys have a much different tonality than the standard employee feedback process.
Frequently Asked Questions
How do companies collect an employee's voice?
Companies collect an employee's voice in a variety of ways. For example, they can use employee voice surveys, employee engagement software, one-on-one conversations, and more.
Why is employee listening important?
Employee voice surveys are a great way to get the company's pulse from your employees. They allow you to get feedback from each employee and compare it across departments and teams. You can leverage this information to identify scopes for improvement and make changes that improve employee engagement.
What does employee input mean?
Employee input is the written description of your employees' work accomplishments and performance that they share with you.
It's an important thing to keep track of because it can help you identify employee productivity and provide extra training or support, where needed.