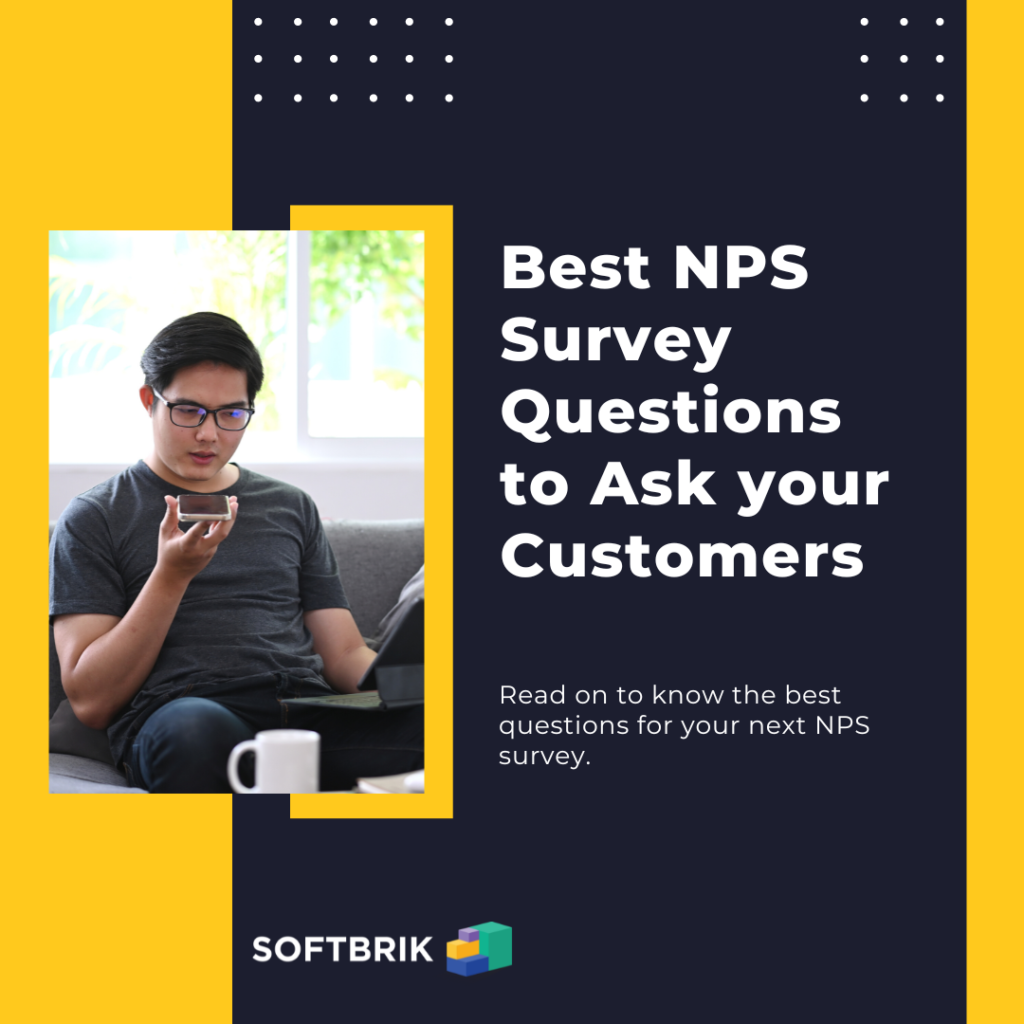 The Net Promoter Score (NPS) was developed by Fred Reichheld in 2003 and has since become the gold standard in customer loyalty measurement across industries worldwide. NPS is based on responses to a single question such as How likely are you to recommend our company/product/service to a friend or colleague?) These are usually broken down into three categories of scores – Promoters, Passives, and Detractors, each of which is designed to evaluate different aspects of customer satisfaction and behaviour over time.
Top 5 Types of Questions to Ask your Customers
A collection of examples of NPS questions is provided below. These example questions can be used as a template to create your own NPS surveys.
Asking Customers honestly to Rate your Product or Services
You may have customers who are dissatisfied with your product or service. In this case, you can use a customer satisfaction survey to assess their experience before they leave your site. By doing so, you're able to identify the problems that could be affecting their online shopping experience. By knowing what customers feel about your site, you can devise ways to improve your products and services so more people will continue using them. The more people who like what you're offering, the greater the chance that those customers will provide referrals for others interested in buying from you.
For example, if 20 percent of your clients answered 9 or 10, subtract that from 80 percent—or 16 percent—which equals 64 percent, meaning that 64 percent of all your customers would promote you to others.
How to receive Authentic Feedback?
An important question in the NPS survey is "How likely is the customer to recommend your company, products, or services to a friend, colleague, or family member?" This question may be used to evaluate how pleased consumers are with your customer service team. This question is designed to help evaluate the quality of customer service at a given business and find out how satisfied customers are with their experience. It's a great way to improve the quality of your customer service, as well as improve how consumers choose your business over competitors.
Here are a few examples: 
When you contacted our support team about an issue, did we solve it quickly?

Was our salesperson helpful when you had questions about our products?

Were we able to resolve any problems related to your order?
These questions will help you figure out where improvements need to be made so that customers have a great experience every time they interact with your company.
Asking Customers to Rate their Recent Interaction with your Business
NPS surveys are widely regarded as one of an organization's most important tools in its customer feedback arsenal. Not only do they help you learn about your customers, but they also can be used to review specific encounters with a particular client, such as post-service, post-purchase, or post-onboarding. These questions provide an excellent opportunity to find any issues that may affect your current customer base. 
Here are some NPS question examples 
What did we do well? 

What could we improve on? 

How likely are you to continue using our services? 

Did we solve your problem?

Would you recommend us?
These questions will help you get genuine answers that can be further analyzed to drive improvement and growth.
Asking Customers to Rate your Business
When you are conducting an NPS survey, there are many things that you need to consider. One of them is just going with the flow and start asking questions that can provide you with a better understanding of the current situation and where your business stands among others in the market. The following questions may be used for various purposes, but generally, show how customers feel about your business and their general attitude toward it.
An Effective Question to include in your NPS Survey Questions: How happy are you with our service?
Asking Customers Follow-up Questions
After you've asked your NPS question, there's value in asking follow-up questions. You can use them to get more in-depth information and insight into why a customer chose a specific rating or gave you a low score. Typically, these two type of follow-up questions can be asked:
one that asks them to quantify their score (e.g., from 1-10, how likely are you to recommend our brand?),

another that asks for specific feedback on what could be improved.
For example, what improvements could we make to help you give us a higher score?
This gives you data points based on how customers feel about both your brand and what they would like from it.
How to Improve your NPS Survey
Improving your connection with detractors is more than just responding to a poor experience. Businesses must provide a practical solution for consumers who provide unfavorable feedback to resolve the condition that produced it. Customers will feel supported and may modify their opinion of your service if you resolve their concerns.
The simplest strategy to encourage new business and increase your NPS is to engage promoters to work to your advantage. Promoters are already aware of your capabilities, but specific input should be obtained to see how your company differs from the competition and how you can continue to meet their expectations.
Frequently Asked Questions
What are the top three NPS questions?
Below are the three most used NPS questions:
Which of these best describes your recent purchase experience?
Would you recommend [product] to a friend or colleague?
How likely is it that you would purchase again from us?
Which question is most commonly used to calculate Net Promoter Score NPS?
How likely are you to recommend our company/product/service to a friend or colleague? (On a scale of 0-10) The higher your rating, the better.

Is NPS the best way to measure customer satisfaction?
Yes. The Net Promoter Score (NPS) is one of many tools for gauging customer satisfaction.